Wrassling Game Online Play
This game was played 2201 times
Wrassling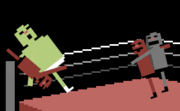 Wrassling pixels wrestling game 2 players. , Rotate your arm is ready to enter the ring and fight your opponents!
How to Play?
Controls for 1 player mode: Use Z and X to rotate arms and arrow keys to move and jump.
Conrols for 2-player mode: Player 1 use WASD and X, C and Player 2 uses arrow keys and O, P.