Flip Diving Game Online Play
This game was played 1475 times
Flip Diving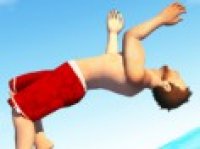 We are here with a great game.this game is very good for the people who like the pool sports game.you are trying to earn points and break your records.you need to show your skills while jumping.try not to be nailed on the ground.if you jump correctly you will jump the higher place.just hold the left mouse button and when you jump press 'space to roll and headfirst to the sea. Have fun.

How to Play?
Press and hold left mouse button.
Release button to jump.
Press 'space' to roll.